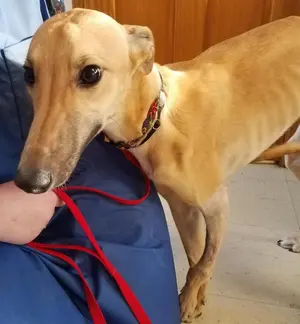 Ruby Sue Heinnickel is a seven month old female greyhound. She was adopted from SHUG rescue group near Washington D.C. shortly before Christmas by Teresa and Doc Heinnickel. Ruby Sue sustained an injury to her left front leg when she was ten weeks old. Her injury resulted in a broken radius which required an orthopedic plate among other procedures. The injury also disturbed Ruby's growth plates which resulted in malformations in her leg. These malformations included, a varus deformity which caused her foot to rotate in, a rotational deformity, and a 2-3 inch difference in the length of her two front legs, The shortened ulna also caused her elbow joint to be out of place and non-functional. Dr. Heinnickel is determined to give Ruby the best possible chance of having a functional left front leg, and he quickly undertook a series of procedures.

Ruby's leg just after Dr. Heinnickel brought her home. You can see the plate and screws used to repair her broken radius.
Dr. Heinnickel began Ruby's procedures on December 26th, 2017 by removing the orthopedic plate that was no longer necessary and in the way of future procedures. On January 4th, 2018, he placed an IM pin and cut the ulna so that the humerus and ulna could create a proper elbow joint. After this procedure, Dr. Heinnickel started passive range of motion exercises with Ruby Sue at home to increase mobility in her newly improved elbow joint. After a few weeks of working with her at home and creating a plan for the next phase, Dr. Heinnickel placed 4 pins and 2 external fixator rings in Ruby's leg on January 20th, 2018. The placement of the pins and fixators corrected Ruby's rotational and angular deformity, and with this apparatus placed, Dr. Heinnickel will be able to extend the length of Ruby's leg by one millimeter a day until her legs are the same length again. Dr. Heinnickel estimates the lengthening phase to take 60-70 days followed by 6-8 weeks of rigid fixation to allow the radius to fully heal.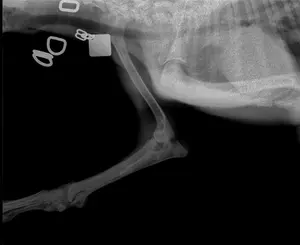 Ruby's leg after her plate was removed. You can see how her elbow joint has been affected by her shortened ulna.
Ruby Sue after her plate was removed. Here she is getting ready to have the radiograph above taken.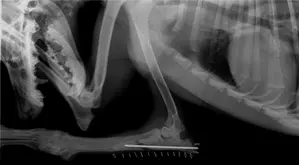 Ruby's radiograph after the IM pin was placed to repair her elbow.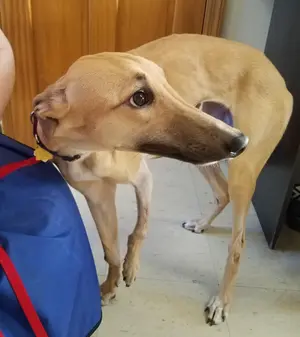 Ruby before her external fixator was placed. You can see the difference in the length of her two front legs.
Ruby's leg after the apparatus to lengthen her leg was placed.
Ruby Sue recovering in her bed after her last procedure.